This whipped kumara recipe is grain-free, gluten-free and dairy-free. Perfect for Christmas lunch.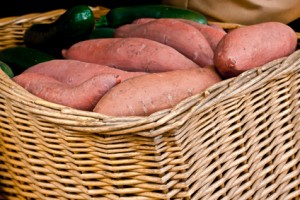 PREP TIME: 15 min
COOK TIME: 20-30 min
SERVINGS: 6 regular, 8-10 if at a holiday meal where many dishes are served
Ingredients:
4 large or 8 small Kumara (about 1 kg ), which ever variety you like. My son loves the orange ones because of their sweet flavor , I love their rich color
1/4 cup butter, divided (*use ghee or coconut oil for dairy-free)
3 tablespoons full fat coconut milk
1/2 teaspoon cinnamon, plus more for garnish
1/2 teaspoon coconut sugar, optional
Preparation:
Set up a large steamer pot or basket over boiling water. The water should just touch the bottom of the steamer.
Peel the kumara and chop roughly into cubes, then place them into the steamer pot to cook for 20-30 minutes until they easily break apart with a fork.
Place the cooked kumara, 3 tablespoons of the butter, coconut milk, and cinnamon into a food processor and process until smooth, stopping to scrape down the sides once if necessary.
Garnish with 1 tablespoon of the butter (melted if you prefer) extra cinnamon, and the coconut sugar if using.
Serve warm.
For a lower-carb version of this recipe, use butternut squash and omit the coconut sugar.
Recipe by Diane San Fillipo